Date Published:
February 2017
A fictional world brought to life, a dark romance that promises eternity, and a secret that threatens to end it all.


Crimson Wilkinson is a teenage girl who, having survived a dark childhood, finds her escape in reading a popular vampire series. After some investigation, she becomes a very active part in the very true vampire stories the world thought were fiction and falls in love with their author, Nicholae Albaric, the sweetly lonely vampire celebrity. But her happiness is short-lived as she discovers she has a rare gene that makes the carrier extremely powerful if turned into a vampire, and she is targeted as the vampire community's number-one most-wanted, some who want to kill her before she becomes a threat, and others who want to use her powers to their own ends.


Other Books by Tricia Barr
Phoenyx Blake has a secret. When she wakes in a dungeon with three strangers, she is forced to face it, which isn't easy seeing as her cellmate, Sebastian, has starred in her dreams. As days pass, they learn they are each one of the four elements bound in human form and they have been abducted by an ancient society that plans to kill them and steal their powers. If they hope to escape, they must master their powers, and Phoenyx must learn to let go of fear and let love in, before it's too late.
Kerrich entered the coven house with a smile on his face, walking past all the other vampires with a sense of self-importance, for he had news for Delilah, news that would intrigue her greatly.

He walked down the hall toward Delilah's master bedroom, not making eye contact with the girls who watched him with curiosity. Of course they should stare. Kerrich knew how pleasing he was to look at. But he would never pay these girls any mind; his attention and complete devotion belonged to Delilah.


He stopped before her door, waiting for his mistress to give him permission to enter. Not a second after, the door opened by no other force than simply Delilah's will. His goddess sat on her lavishly garnished canopy bed, wearing a penoir of white lace, reading a book by candlelight. She is more lovely everyday, he thought. She is like the Moon, with luminescent flesh and ringlets that are spun of the night itself.


She raised her pretty eyes from the pages of her book and trapped him in her gaze.


"What news do you bring?" she asked, her voice like tiny bells.


He came around her bed and knelt on the floor beside her.


"I have been keeping a close eye on him, just as you instructed," he said. "And I have noticed a strange new development. For several months now, he has been watching a mortal girl."


"A girl?" she mused. "I didn't know he hunted girls. His tastes have changed."


"No, he isn't hunting her," Kerrich said. "He just watches her. For some reason, he seems very interested in her."


She looked away thoughtfully for a moment.


"Kerrich, do you love me?" she whispered, stroking his cheek ever so tenderly.


"With all my heart, mistress," he vowed, wanting so badly to take her snow white hand and plant a kiss on her fingers.


"I want you to follow this human. Watch her closely, but do not let him know you are watching. I want you to find out what is so special about this girl, what he finds so interesting about her." She looked down into her lap, with a smile that was an impossible merger of innocence and wickedness. "She will be the key to my revenge."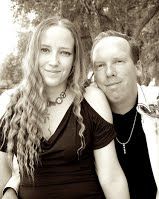 Tricia Barr always loved creating worlds and romances through writing; however, loving history and the idea of travel more, she pursued a degree in Anthropology. She graduated from the University of Arizona in 2011 and looked hard for a job in her field for two years before she realized that her degree would not allow her the travel opportunities she truly wanted.


Now she works as a writer and a jack-of-all-trades with her husband, Eric Barr, leaving them both plenty of time and freedom to travel on their own terms as they raise a family.